Whale Watching And Kayak Classic Islands – Skiff Supported
Sea Kayaking and Whale Watching in the Sea of Cortez
Adventure Type
Kayak, Whale Watching
Experience Necessary
beginner
Age Minimum
14
Destination / Location
Loreto, Baja California Sur
Trip Dates
2021-(Feb. 19-24, Feb. 26-March 3, March 5-10, March 12-17)
Highlights
Kayaking around Isla Danzante and Isla del Carmen
Day trip to Magdalena Bay to view the "Friendly" Grey whales and calves.
Regular panga excursions to the Blue Whale Triangle
Base camps provide helpful central location
Experienced guides know good times/places for sightings
Beautiful campsites and delicious food
Kayaking with Whale Excursions
In February and early March of each year, the whale migration comes to Baja California Sur. Humpback whales, blue whales, gray whales, sperm whales, fin whales, and other species have been seen in the Sea of Cortez, but near Loreto, the most common sightings are blue and humpback whales. In fact, a triangular section of water just south of Isla del Carmen is known as "the blue whale triangle" owing to the large numbers of blue whale sightings there.

At Sea Trek, we combine our Classic Islands kayaking trip with daily excursions in our panga, a motorized support boat that can get us into the Blue Whale Triangle in a short time. These majestic creatures are the largest animal on earth, and viewing them close-up is a breathtaking experience, to say the least.

To increase the viewing possibilities during the week, in addition to hopefully seeing whales while we are paddling, we will utilize our support skiff throughout the week for regular motorized small group excursions. This greatly increases our range and viewing opportunities.
Itinerary
When you arrive at Loreto's airport, we are there to transport you to your waterfront hotel. Spend the afternoon exploring the town's history and visiting its shops, then meet back at the hotel at 6:00pm for a thorough orientation. Your guides will answer any questions you have, and map out the flow of the coming days for you.
Depending on the weather forecast for the week, we may go today to Magdalena Bay, located on the Pacific side of the Baja Peninsula. We board our panga, and for the next 2-3 hours watch mother gray whales and their young swimming together under the guidance of our boat captain and guide. The whales often get close enough to touch you, or look you in the eye. Lunch at a local restaurant in the fishing village of Puerto Lopez Mateo is included, and afterwards we head back to the Sea of Cortez to begin our kayak adventure. We will be transported to our first nights Island camp. (If the forecast calls for good paddling early in the week, we will likely save our Magdalena Bay adventure for the end of the week on Day 6.)
The sun rising over the Sea of Cortez and casting its light on the jagged promontories of Isla Danzante, and the Giganta range to the West, is a sight to behold. Your guides will point out Los Candeleros Islands, small rocks jutting above the water that serve as a home to cormorants, boobies, and ospreys. Blue whales and pods of dolphins have been spotted in the channel between the two islands, so on our shakedown paddle this morning, we'll be sure to keep a good look out! The afternoon can be spent snorkeling teeming reefs and shorelines, enjoying more paddling, or going out in our panga for more extended whale watching.
Today we'll cross over to Isla Carmen. We make camp on the southwestern tip of the island, and we'll have plenty of time in the afternoon for hiking, snorkeling, stand up paddle boarding, or a trip into the Blue Whale Triangle.
After a delicious breakfast of Mexican eggs, tortillas, fresh fruit, and fresh coffee, we'll go on a day trip to the coves of Isla del Carmen, then return to the campsite for more activities. You'll have another opportunity to go see whales.
We have spent two nights at the Isla del Carmen campsite, so it's time to cross back to Isla Danzante for a new campsite, one surrounded by massive rock formations. We'll spend some time exploring Danzante's shoreline, with its many tranquil coves, until we finally reach the cove where our camp is located.
The sun rises over the Sea of Cortez one last time, making fiery colors briefly appear on the turquoise-hued water. Bid goodbye to this magnificent piece of the planet. We'll have breakfast, pack up, and paddle back to Puerto Escondido for the take-out, where a van will be waiting to take us back to Loreto. Once we've all enjoyed a final seaside lunch or snack, it's back to your hotel or the airport, your head filled with the past week's experiences, your heart looking forward to your next adventure. (again, depending on the weather for the week, we may have chosen to make this our Magdalena Bay/Grey Whales day.)
While you can fly home on the afternoon that we come off of the water, on Day 6, many folks will want to spend a little more time in our warm and friendly Pueblo of Loreto. We'll be happy to share with you some of the many wonderful side excursions and discoveries available to you if you decide to extend your visit.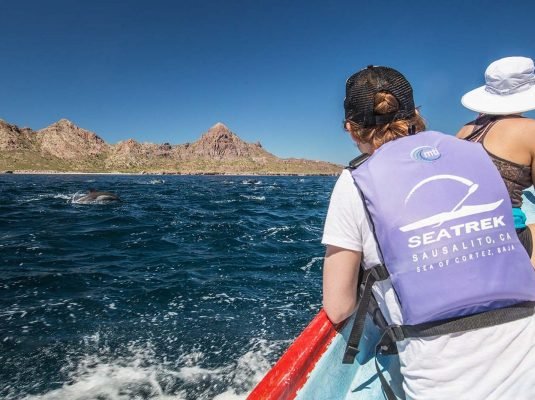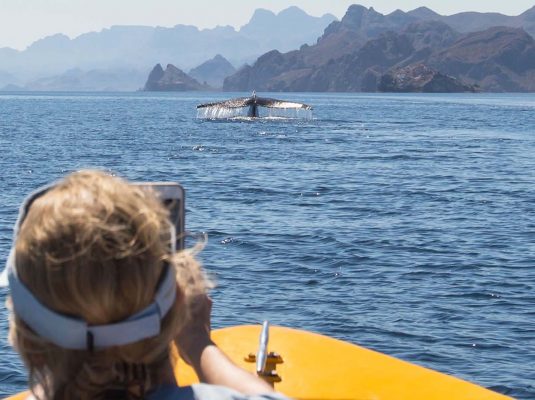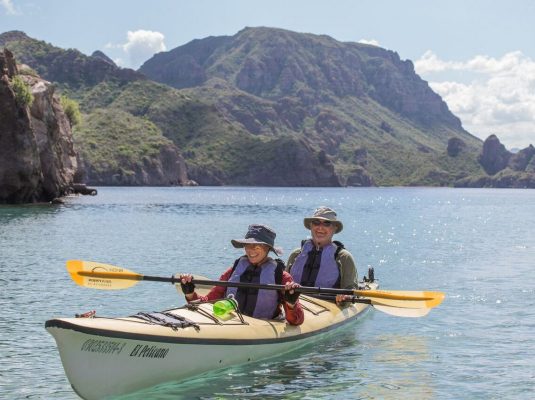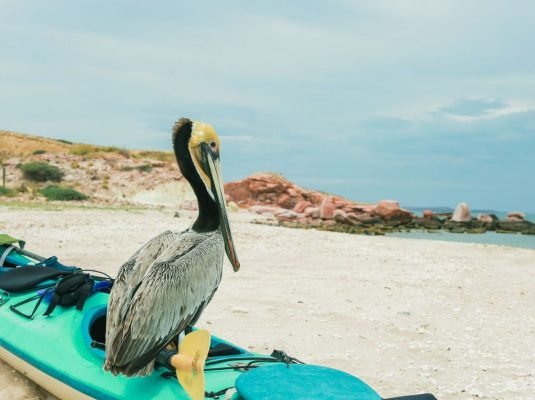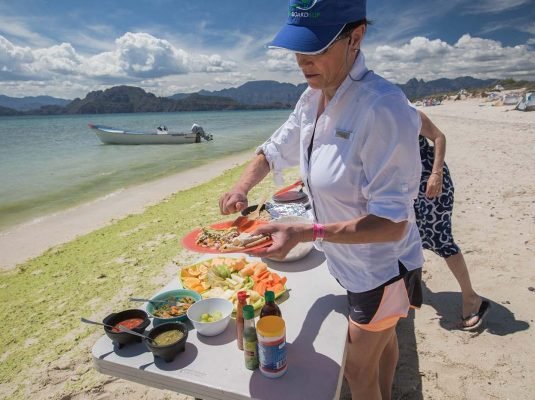 All Sea Trek Baja trips start in the quaint little town of Loreto, located on the Baja peninsula about 600 miles south of San Diego. In most cases there is only one inbound and outbound flight a day, so our afternoon/evening meeting on day 1, and our end of trip logistics are built around that timing.
Some people choose to drive to Loreto down Federal Highway 1, but the easiest way to get there is to fly into the international airport. Direct flights are available from Los Angeles and Tijuana, or you can fly through one of the nearby Mexican cities. Talk to us for more information on traveling to Loreto.
More Info
Accommodations Hotel accommodations are not included in the trip package. You will want to book accommodations for at least the night before the first published day of the trip, and then again for the night of the last published day of the trip. On some trips you are welcome to fly out on the same afternoon that the trip ends, as long as the flight departs at 4 pm or later. For our confirmed clients, we are pleased to offer the services of our preferred Travel Planners, to assist with all of your flight and hotel needs. Although limited in number, visitors to Loreto have lodging choices that range from Luxury to budget. Our travel planner will assist you in determining lodging that fits your preferences. Our Travel planners are seasoned Baja veterans, and will help you find the best flight arrangements as well, so that your trip planning is smooth and efficient. Packing List You'll be provided a detailed, official packing list upon reserving a trip with Sea Trek, but you may wish to keep the following list in mind while you prepare: