Tomales Kayak Overnight Kids Camp
Kayak Camp for Teenagers in San Francisco Bay Area, Marin, Sausalito
Adventure Type
Kayak
Experience Necessary
beginner
Age Minimum
12
Destination / Location
Tomales Bay
Trip Dates
Weekly late June- early August
Highlights
For kids ages 12-15
Five days camping on Tomales Bay, Pt Reyes National Seashore
Explore the bay by kayak every day
Witness the area's unique bio-diversity
See and hear the Tule Elk
Kayakers carry all their food and gear
Monday-Friday
5 Days and Nights Kayaking on Tomales Bay
Sea Trek's overnight camp at Tomales Bay gives campers the chance to spend five days roughing it in the wilderness around Tomales Bay! Bring your children to our Sausalito location on Monday morning, and pick them up Friday afternoon! In between those dates, campers will be spending their time learning expedition kayaking skills, including:

• Paddling techniques
• Packing for an extended expedition
• Leadership and teamwork
• Setting up and breaking down a camp

Campers will also get plenty of opportunities to see local wildlife. Tomales Bay is one of the most secluded wilderness locations in the Bay Area, and is populated with a huge variety of animals, from seals to bat rays to leopard sharks to the dozens of species of birds that fly overhead. Coyotes live in the surrounding hillside, and bioluminescent organisms light up the water at night. Sea Trek's 5-day overnight camp gives local teenagers the chance to experience the wilderness first hand while also building their camping and kayaking skills!

Typical Itinerary
Meet at Sea Trek by 9am. A commercial van will drive us to Hearts Desire Beach at Tomales Bay State Park, where our gear will be waiting. Campers will learn how to load their kayaks for a multi-day expedition, and how considerations like tide and current affect the planning of a multi-day trip. When everyone is ready, we'll set out on our adventure, making our first camp late in the afternoon.
Tomales Bay used to be populated by Coastal Miwok tribes, and the park has tried to preserve information about their way of life by putting replicas of their homes along the coast near Hearts Desire Beach. We'll have passed these on Monday, but our guides are happy to educate campers on the Coastal Miwok, and how they lived within these ecosystems.
Each day in Tomales Bay starts out the same, with everyone waking up, having breakfast, and packing up their camp so they can paddle it to the next location. However, the activities for each day vary by location. We might paddle to Hog Island in the middle of the bay, stop by White Gulch to learn more about intertidal life, or we may attempt to get a good look at a Tule Elk! Our guides are good at planning a variety of activities for campers.
Often, the activities campers do during the day will feed into a greater lesson about the region, its cultural heritage, or its natural history. Campers may get to learn important things about local indigenous tribes, ecological preservation, and zoological study, but more importantly, they will get to learn them first-hand. On our final night, weather permitting, we will paddle to our final camp at night, with only the light of the moon and the stars to guide us.
After packing up camp one final time, we paddle back to Hearts Desire Beach and say good-bye to Tomales Bay. The van takes us back to Sea Trek, where we unload and unpack everything, clean it up, and officially close camp. Campers can leave proud of their accomplishments, with a whole new group of friends and a better understanding of the nature in and around the Bay Area. Parents should be there by 4pm to pick their kids up.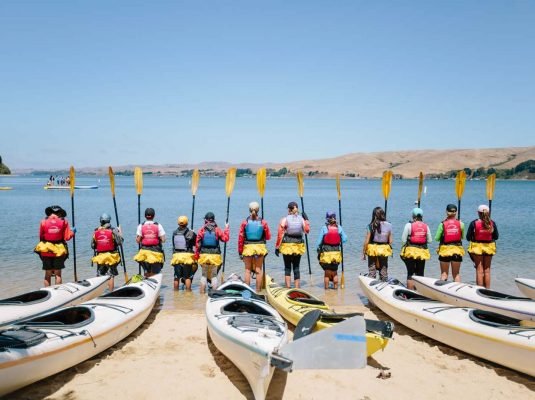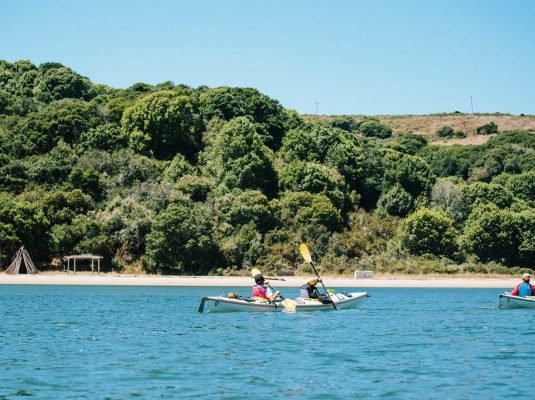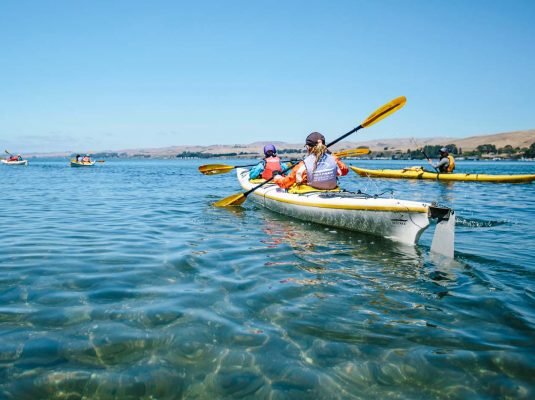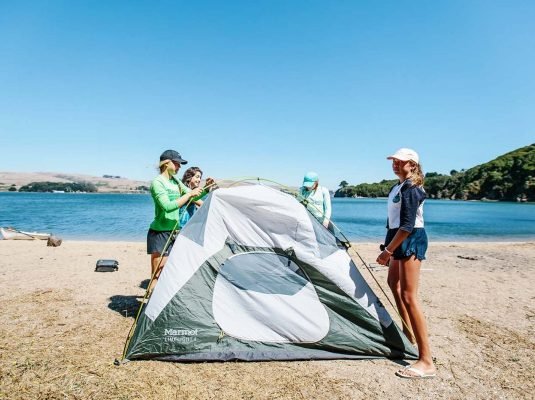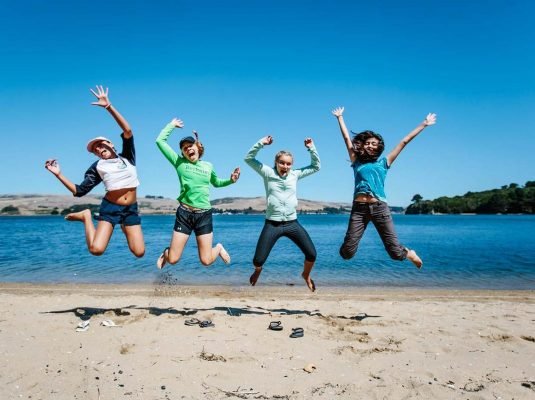 Bay Model, 2100 Bridgeway, Sausalito, CA 94965 Follow Bay Model signs, and park in Bay Model lot.
COMING FROM THE NORTH ON HWY 101:
Take Sausalito/Marin City exit. Sea Trek is roughly 1.7 miles.
Go left under the freeway and right onto Bridgeway.
Count seven signal lights (including the signal where you turn right onto Bridgeway).
Turn left on Marinship Way. This is the first possible left after Harbor Drive and is opposite a 7-11 market and bus stop shelter.
Go down the hill and continue straight. Follow Bay Model signs. Turn right between Bay Model warehouses. Drive towards the water and the Bay Model/Sea Trek parking lot is on the left. Parking is free.
COMING FROM THE SOUTH (Golden Gate Bridge) ON HWY 101:
Take the Rodeo Drive exit off 101 (comes after Spencer Drive exit). From exit to Sea Trek is approx. 1.2 miles.
At the first stop sign bear left onto Nevada Street.
Nevada Street ends at Bridgeway. Turn right on Bridgeway and at the second signal light (just after Spring Street signal light) take a left at Marinship Way (opposite a 7-11 market and bus stop shelter).
Go down the hill and continue straight. Follow Bay Model signs. Turn right between Bay Model warehouses. Drive towards the water and the Bay Model/Sea Trek parking lot is on the left. Parking is free.
More Info
Summer on the bay typically consists of a mixture of weather conditions. Morning and evening fog are common with the sun burning through most days and wind commonly picking up in the afternoons. Expect lows around 50 with highs in the 70's or better.
Sea Trek provides sit-inside double kayaks that come equipped with sprayskirts. Paddle jackets with neck and wrist closures are made especially for sea kayaking and personal flotation devices (lifejackets) keep us insulated and buoyant while in the water.
Layering clothes works best so that you can easily keep pace with the changing temperature and weather. Your child will want a paddling outfit and a warm on- land outfit.
Storage space is limited in the kayaks. Pack your gear in two medium size, nylon duffel bags (12″ x 18″ approx.) lined with plastic trash compactor bags. Your sleeping bag needs to be in a nylon stuff sack that is also lined with a trash bag. Campers bring their own lunch for the first day.
Download your packing list below.