ONBOARDSUP YOGA RETREAT AND CLASSIC ISLANDS – SKIFF SUPPORTED
SUP Yoga Retreat in the Sea of Cortez with Leigh Claxton
ADVENTURE TYPE
SUPYoga Sup
EXPERIENCE NECESSARY
Basic Stand Up Paddle Experience Required
AGE MINIMUM
16
DESTINATION/LOCATION
Loreto, Baja Mexico
Trip Dates
Oct 25 - 30, 2022
Duration
6 days
Cost
$1,995
A stand-up paddle board adventure
Daily opportunities for yoga and meditation, paddling, exercise and fitness
Chance to see whales, dolphins, other aquatic life
Local, professional guides and experienced paddle board and yoga instructor with OnBoardSUP.
Beautiful campsites and delicious meals
Panga support throughout trip
STAND-UP PADDLE BOARD TRIP WITH YOGA, MEDITATION
This stand-up paddle board trip combines paddling and adventure with yoga, making for a unique experience that is well worth trying out. While people of all yoga skill levels are encouraged, it's best to have some experience on a stand-up paddle board before attempting this sort of trip.
Each morning, you will have the opportunity for sunrise meditation, and each day there will be time for yoga. Much of this yoga will be "on-board";  you will be performing the yoga while also balancing on your paddle board.
On the trip, you will eat fresh foods and be given time to explore and admire the overwhelming natural beauty around you. Your instructor, Leigh Claxton, has decades of experience paddling, leading yoga retreats and outdoor adventures. She will be a great help guiding you on this journey.
Upon your arrival at Loreto airport you will be driven to our trip launch site. You will board a Sea Trek support boat and will be transported to your first beach on the islands. A beautiful camp will be waiting, ready for you to settle in and take a deep breath. After you get organized, enjoy a bite to eat and then get ready for your first OnBoardSUP Yoga Class with Leigh.
We greet the rising sun with a guided meditation as rays of light hit the Sierra de la Gigantas and reflect onto the calm, glassy water. The nearby Los Candeleros Islands can be seen; small rocks jutting above the water serve as a home to cormorants, boobies, and ospreys. After paddling along the coast of Isla Danzante, we make a second crossing northeast to Isla del Carmen.  During the crossing, keep an eye out for pods of dolphins or even a fin whale!  After setting up camp on Isla del Carmen, the afternoon is yours to spend as you wish:  paddling; snorkeling; hiking; relaxing; communing with friends under the shade.
After another sunrise meditation session and a hearty Mexican breakfast, it's time for a day trip! We explore the coves around Isla del Carmen and eventually make an afternoon stop at a secluded beach for an afternoon of snorkeling and sunbathing. Upon returning to camp for the night, our guides prepare a delicious feast of fresh, local foods.
After two nights on Isla del Carmen, we'll cross back to Isla Danzante in the morning. We'll set up camp at a new location surrounded by massive rock formations.  There's more opportunity for exploration and meditation among these rocks and another delicious meal as the sun sinks beneath the turquoise-colored water.
After a sunrise meditation, we'll spend the day swimming, snorkeling, and paddling out for a Drifting Yoga session in a remote and beautiful cove. There is so much to explore and see. We will finish the day with a special dinner celebrating our last night out on the magical islands. Afterwards, we can spend the night star-gazing, telling stories, and playing games.
As the sun rises over the Sea of Cortez one last time, there's time for another sunrise meditation and OnBoardSUP Yoga session. After that, we'll have breakfast, pack up, and enjoy the day paddling back to Puerto Escondido for the take-out. After saying goodbye we will take you to the airport so you can fly out that day or to your hotel if you decide to extend your stay.
This trip begins at Loreto. Located on the lower part of the eastern gulf coastline, this town has long been a destination for people seeking a wilderness adventure.
While many people with the time and patience enjoy driving into Loreto from San Diego via Federal Highway 1, the easiest way is to fly into the nearby international airport. Alaska Air/Horizon flies directly to Loreto from Los Angeles, and AereoCalafia offers direct flights into Loreto from Tijuana. You can also try reaching the town by flying to La Paz or Cabo, and getting a connecting flight or other form of transportation from there. Contact us for more information on traveling to Loreto.
Leigh Claxton has worked in the outdoor and indoor recreation industries for more than 20 years. Stand Up Paddle is a natural passion of hers. Having been raised in Southern CA, Leigh spent many weekends surfing in Mexico, diving for lobster dinners and sleeping under the stars on the beach.
She has been leading outdoor adventures for 17 years, and has recently added the components of meditation and yoga into her trips. Sharing her knowledge of the outdoors and taking full advantage of all there is around, she opens new dimensions and realities for many who might not have previously been open to mind/body traveling.
Accommodations
Hotel accommodations are not included in the trip package. Most clients will fly in on the day the trip starts, and be taken straight out to our first island camp. If you choose to fly in a day or so ahead of the start day of the trip, you will need to have booked accommodations to cover those nights. At the end of the trip, we expect to deliver most clients directly to the airport for their flight out that same afternoon. If you choose to stay on in Baja for a day or so, you'll want to be sure to have accommodations booked.
Packing List
You'll be provided a detailed, official packing list upon reserving a trip with SeaTrek, but you may wish to keep the following list in mind while you prepare:
Download Pre-Departure Information and Packing List
Read Our Terms and Conditions
Sign up to our Baja Newsletter and get the latest news and information on our Baja Trips.
JOIN THE ADVENTURE
Ages 16 years old and up. Please call for questions about kids under 16 years old.
If you have any questions feel free to contact us.+
READ SOME OF OUR REVIEWS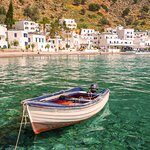 This was my 3rd trip with Sea Trek in Baja. My wife and I have gone twice and I went once by myself. I love this place. Beautiful water, desert mountains, cool wildlife and it is in Mexico, a warm and charming culture. Steve, the Baja Big Cheese, has a knack for picking awesome staff. These are the kind of people I wish I had here at home to hang out with. My only complaint is that the trip is too short.
- Trip Advisor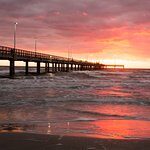 Words cannot express how wonderful this experience was. I went on the paddleboarding excursion with a friend in November. The weather was perfect! The paddling was amazing. The guides were helpful, knowledgeable professional and made sure that every camper got what they were expecting from the trip. We camped on the most beautiful beaches, snorkeled some beautiful spots, went fishing and diving and hiking. Such a full featured experience. I am changed forever. Can't wIt to go back and do it again!!! Worth every penny!!!!
- Trip Advisor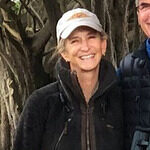 Seatrek provided a memorable experience! Joey Heusler, our guide, was extremely knowledgeable about whales and with the Seatrek staff, took us to Magdalena Bay, where we had two trips out to see the Gray whales with their calves, and then on to the Sea of Cortez for a four day kayaking and camping trip on the islands. We saw eight Blue Whales, including one passing right by our island camp! A first time for most of us. The food prepared by the staff was wonderful and everything was done for our safety and comfort. Could not recommend this trip more highly!
- Trip Advisor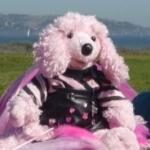 Three friends and I were dazzled by this group of professional, safety minded people. Advice is freely given by all and it is good advice. Amazing food – think fish caught and made into scrumptious meals like clams on the half shell and ceviche. Star gazing with stories about the constellations, going to sleep with the sounds of blue whales, jumping into the boats and racing to get in the middle of a school of dolphins who played in the wake. Kayak trips at different levels for those of us who are not as skilled but still want the adventure. It was all fabulous. I would recommend this trip to anyone who enjoys paddling, sleeping on the beach, and good company. As a group of over sixties, we felt well taken care of and safe. Keep up the good work, Sea Trek. You are a jewel.
- Trip Advisor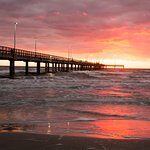 I did a sea trek meditation retreat in Baja this season. From the very start all communication was timely, friendly and organised. Once I arrived in Loreto they were very accommodating. The kayaks were good kayaks and the guides incomparable. Cannot recommend Sea Trek and Baja enough. Thank you for helping making this experience the trip of a life time for me.
- Trip Advisor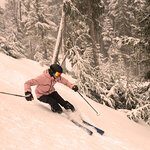 The Classic Island and Whale Watch tour was an incredible experience. The guides were pleasant, organized, knowledgeable, accommodating, and excellent chefs! Each individual in our group was asked what they were most interested in doing/seeing during the tour and our guides delivered. We have already recommended Sea Trek to friends and family.
- Trip Advisor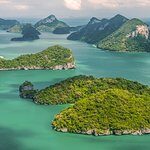 Our kayaking camping trip from Loreto Mexico was an amazing nature experience. Sea Trek did a great job with answering all the pre-trip questions from my wife and I. The trip itself from Loreto to the islands of Danzante and Carmen was rich in marine and bird life and seeing the blue whales (again and again!) was life altering. The guides were truly experts and a pleasure to be with whether in the water or on a day hike. The meals were yummy, often including a fresh catch of the day. And then there is that celestial night sky…..We want to go back!
- Trip Advisor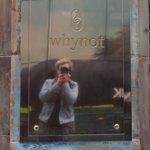 Sea Trek makes you feel welcomed and cared for as soon as you arrive in Loretto. Actually, as soon as you call them months in advance to ask about trip details. The kayaking is beautiful, the sea life swimming beside and below you – whales, dolphins, eels…. The food fresh and tasty, changing each day. An incredible, experience; easy to make the trip what you want… adventurous or relaxing, you choose… they make it happen.
- Trip Advisor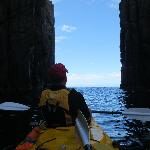 We took the SUP option for paddling out to and around these beautiful islands in the Sea of Cortez. I was very glad we did, as SUPing is what we're used to when paddling at home, and it provides a great vantage down through the clear water, a full-body workout, and for me more comfort than sitting. We definitely weren't slowing down the group, and several others wanted to try it out from camp. It was easy to hop on the SUPs just to get a little morning exercise, to find the best snorkeling, and for an absolutely amazing Bioluminescence paddle.
This was a wonderful trip. And a side benefit was how pretty, friendly and easy Loreto is.
- Trip Advisor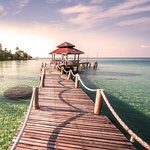 The guides were amazing; the scenery breathtaking; the food outstanding. Can't say enough good things – I HIGHLY recommend it!!
- Trip Advisor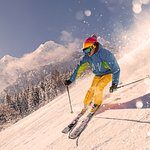 Excellent food, excellent guides, excellent experience, excellent gear, excellent camping, excellent snorkeling, excellent camaraderie — everything was wonderful!
I had a great time! I feel like a new person! The whale watching was great, we also saw dolphins, pelicans and a variety of other animals. I highly recommend Sea Trek Baja trips for solo, couples and families — you will be thrilled that you did it.
- Trip Advisor