Bird Watching Tour
Search for Local and Migratory Birds along Sausalito's Waterfront
ADVENTURE TYPE
Kayak
EXPERIENCE NECESSARY
Level 1: No experience necessary
AGE MINIMUM
14
DESTINATION/LOCATION
Sausalito
Trip Dates
Seasonal trip during the winter months
Duration
3 hours | 10 am - 1pm
Cost
$80 for Sea Trek Members
$100
Expert kayak instruction for all levels
Knowledgeable wildlife guides
Beautiful waterfront scenery
Birds, seals, and sea lions!
Fun and safe experience
We kick off this experience by gearing up properly and learning the basics of good kayak technique. After a brief safety talk, we head down to the dock where we launch in double or single sit-on-top kayaks. Depending on tides and conditions, the guides will propose a float plan that will provide the group with the best chances of seeing the most wildlife on that day. Winter is the most active bird watching season when hundreds of birds migrate through Richardson Bay. Whether you are brand new to kayaking and/or birdwatching or are very experienced, this is sure to be a great trip full of learning and connection with the wildlife of the Bay. Our guides will provide helpful tips for observing and identifying wildlife and we are sure to see a variety of local and migratory species out on the water. Join us!
The Bird Watching Tour half-day trip runs on February 11, 2023 and February 26, 2023. Book your reservation through this website or by calling (415) 332-8494.
Bay Model, 2100 Bridgeway, Sausalito, CA 94965
Follow Bay Model signs, and park in Bay Model lot.
COMING FROM THE NORTH ON HWY 101:
Take Sausalito/Marin City exit. Sea Trek is roughly 1.7 miles.
Go left under the freeway and right onto Bridgeway.
Count seven signal lights (including the signal where you turn right onto Bridgeway).
Turn left on Marinship Way. This is the first possible left after Harbor Drive and is opposite a 7-11 market and bus stop shelter.
Go down the hill and continue straight. Follow Bay Model signs. Turn right between Bay Model warehouses. Drive towards the water and the Bay Model/Sea Trek parking lot is on the left. Parking is free.
COMING FROM THE SOUTH (Golden Gate Bridge) ON HWY 101:
Take the Rodeo Drive exit off 101 (comes after Spencer Drive exit). From exit to Sea Trek is approx. 1.2 miles.
At the first stop sign bear left onto Nevada Street.
Nevada Street ends at Bridgeway. Turn right on Bridgeway and at the second signal light (just after Spring Street signal light) take a left at Marinship Way (opposite a 7-11 market and bus stop shelter).
Go down the hill and continue straight. Follow Bay Model signs. Turn right between Bay Model warehouses. Drive towards the water and the Bay Model/Sea Trek parking lot is on the left. Parking is free.
Piero
Piero has been working on marine conservation, rehabilitation and research projects around the world since 2010. He loves the outdoors and welcomes any opportunity to explore as well as teach others about the natural world around them. He is originally from the NJ/NY area but, after working on the Farallon Islands as a marine biologist studying elephant seals in 2017-2018, the Bay Area continued to call out to him to discover more about the beautiful California coastline. Living in the Bay Area allows Piero to spend time on the water, kayaking alongside all of the magnificent creatures that call Richardson Bay home.
Darrow
Darrow has been educating and guiding people outdoors for over 15 years. He has led groups kayaking, backpacking, rock climbing, and birding from the mountains to ocean and everywhere in between. He is also the co-founder of The Bird School Project, an experiential bird education program working in schools in the Monterey Bay area. He's taught thousands of people about birdwatching and natural history. Darrow has been with Sea Trek for five years and has supported Sea Trek Cares, our project to contribute funds to local nonprofits.
JOIN THE ADVENTURE
Ages 14 years old and up. Please call for questions about kids under 14 years old.
If you have any questions feel free to contact us.+
READ SOME OF OUR REVIEWS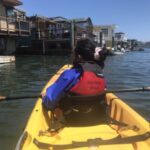 Went here for me recent birthday! Try to go when it's not windy! The first half was call. We went to the houseboats and to see the cute seals! Coming back, it got a little windy but it was definitely a great workout! We are in shape and used to rowing so it wasn't a big deal, just ask or look up weather conditions before reserving a time.
- Google Reviews
Loved kayaking in Sausalito. Saw a bunch of cute seals and birds. Water can get choppy when it's windy. Easy to board and get off the kayak. They had a small life jacket for our dog as well!
- Yelp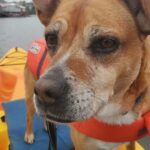 Fantastic company to rent from and great day kayaking! I have rented several times from Seatrek and every time has been so easy and hassle free. Today I took my dog for the first time and everyone was wonderful and helpful making it a perfect day on the water for us. If you are looking for a great single, couple, or group/family outing I highly recommend renting from seatrek.
- Yelp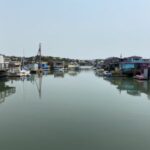 Great experience! Staff were friendly, and we had a smooth, fun time kayaking. We especially liked kayaking around the house boats, which were cook to see. They recommend making reservations in advance, which was easy to do online.
- Yelp
Becoming a member of SeaTrek has changed our lives. It's given us a safe and easy way to be out on the water and for our three and five year old boys to explore, learn about marine wild life and have a sense of adventure. The people who work at SeaTrek are all incredibly warm and knowledgeable and have made our whole family feel welcome. During the pandemic this has been a lifeline for us. I can't recommend SeaTrek or being on Richardson Bay enough.
- Google Reviews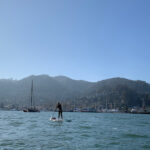 Friendly hepful staff. Excellent paddling equipment! Beautiful / scenic location with lots of wildlife to observe. Very relaxing escape from the hustle, bustle and stress of an urban environment.
- Yelp
My husband and I went out for a guided tour of the bay with Kenny this morning. It ended up just being the 3 of us which was really nice. I love that Sea Trek provided full body wind breakers which helped so much with keeping warm and dry. The highlight of the tour was definitely all the seals. They were so freaking cute and they were all over the pay popping their little heads out! Kenny shared lots of history with us regarding the boats in the bay, the animals, and the houseboat community. It was a really fun tour and it was not physically hard at all.
- Google Reviews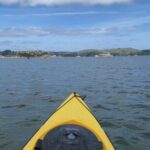 Such an amazing experience!! Thank you to my two wonderful friends who showed me this place. Thank you to the staff for being helpful and giving us tip how to get on board on a kayak and what we can and can not do. If you are in the area, I recommend going to them! Can't wait to see you guys soon!
- Google Reviews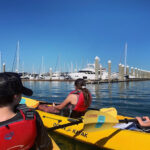 Repeat customer here. Book online ahead of time, and it's a breeze to check in and get out in the water. We have used single and double kayaks (not the traditional kind) with adults and tweens / teens.
- Yelp
What a great place ! I took a SUP lesson and it was so fun and helpful . They are so friendly and organized . Very therapeutic to get out on the water .
- Google Reviews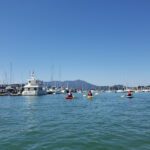 If you're staying in Sausalito or are looking for a great spot to get on the water during your stay in San Francisco this is a great spot! You're able to complete the waiver on line ahead of time (or as a group we were able to) and the safety speech was quick but thorough! We saw seals and a variety of birds and enjoyed being able to explore on our own. You're able to choose between kayaking and stand up paddle boards and the equipment is in good shape.
- Yelp