Tomales Bay Getaway
Skiff-Supported Multi-Day Kayaking Trip
ADVENTURE TYPE
Kayak
EXPERIENCE NECESSARY
No experience necessary
AGE MINIMUM
12
DESTINATION/LOCATION
Tomales Bay
Trip Dates
October 11 - 13, 2023 - Waitlist Only
Duration
3 days
Cost
Starting at $1,199/person
Kayak and camp in style along the stunning and secluded bays, beaches, and headlands of Tomales Bay and the Point Reyes National Seashore.
Experience the remarkable phenomenon of bioluminescence on a moonless night paddle.
Hike the undulating Tomales Point Ridge Trail, winding through a tule elk reserve, with sweeping views of the Pacific, Bodega Bay, and the rugged Sonoma Coastline.
Enjoy delicious meals inspired by and including the fresh farm and aquaculture products of the Sonoma Coast region.
Immerse yourself in the human and natural history of this Bay through the expert interpretation of experienced guides.
SKIFF-SUPPORTED MULTI-DAY KAYAK TOUR
This 3-day, 2-night experience offers you the opportunity to explore the environmental splendor of Tomales Bay by kayak while camping each night on remote beaches only accessible by boat. An hour's drive north from San Francisco, Tomales Bay features some of the most beautiful and storied bayscapes in California. From the Miwok Tamáls to the exploration of Sir Francis Drake and the expansion of the Mexican-American ranching complex, Tomales reflects the state's dynamic human history.
On this multi-day adventure, you'll be led by best-in-class guides with rich knowledge of the Bay's natural and human history. We'll also be skiff-supported, so you'll paddle fast, light kayaks without the need for packing and unpacking. Experience a rich array of bird life, endemic elk species, otters, porpoises and—when the sun goes down—the bioluminescent glow of the water. All meals include local ingredients from Sonoma County's award-winning creameries, farms, and seafood providers. We'll punctuate discovering the Bay by kayak with optional hikes along the Point Reyes National Seashore's iconic trail system with stunning views of both the Bay and the wild Pacific Ocean.
Meet your guides in the morning at Miller Boat Launch at Nick's Cove, along Highway 1, on the eastern shore of Tomales Bay. We'll begin the day by getting acquainted with each other and our location, loading your personal gear into the support skiff, and discussing the plan for our first paddle before moving into a lesson on the basics of sea kayaking technique and safety. As soon as we're all set to go, we'll get into our kayaks and paddle across to our first camp on the secluded western shore of the Bay, taking time to explore the Hog Island wildlife sanctuary along the way.
As you're settling into camp, your guides will be preparing a delicious lunch, taking advantage of the local seasonal foods abundant in our beautiful bioregion. After lunch, we'll do a deeper orientation to go over the plan for the next few days in detail, and learn more about Tomales Bay and the Point Reyes Peninsula. After dinner, we'll make use of a night without light pollution to go out on the water in search of the magical bioluminescence the Bay is known for. (Lunch and dinner provided)
We'll wake with the morning song of the birds to enjoy hot drinks on the beach, followed by a hearty breakfast before packing up camp and hitting the water.
We'll paddle north towards the mouth of the Bay, hugging the beautiful western shoreline while keeping an eye out for tule elk, river otters, harbor seals, and a myriad of local birds as we go. Depending on our pace, we may have lunch along the way. In the afternoon, we'll have the option of a hike up and along the undulating Tomales Point Trail, wending through a tule elk reserve, with sweeping views of the Pacific Ocean, Bodega Bay, and the rugged Sonoma Coastline. It's a great way to get to know more of the unique plants and creatures of the National Seashore.
Later that evening, your guides will prepare a delicious meal, inspired by and including the fresh farm and aquaculture products of the Sonoma Coast region. (Breakfast, lunch, and dinner provided)
On our final morning together, we'll wake with the sunrise to enjoy coffee and a light breakfast. As early as possible, we'll launch the kayaks to take advantage of the calm morning waters to experience wildlife and birdlife that's most active that time of day. We'll make our way to another beach to enjoy a delicious lunch together before heading back to Nick's Cove where we part ways after our time together. (Breakfast and lunch provided)
Guests should expect to paddle anywhere between 3 – 8 miles per day with optional opportunities for hiking 3 – 6 miles on day 2. Previous camping experience is recommended but not required as this journey is guided and skiff-supported.
What Does Skiff-Support Mean?
Light, Fast Kayaks
Our motorized 24′ skiff provides support, carrying our gear and allowing you to focus on having a good time. The skiff carries all the camping gear and provisions, allowing you to paddle light, empty kayaks. This alleviates the repetitive task of squeezing all your gear into tiny compartments only to unpack again a few hours later. It is physically easier to paddle a light kayak.
Comfort & Safety
We are able to carry a much more comfortable camp this way. Think upright chairs, tables, large shade structures, etc. The skiff driver and guides will take care of providing you with healthy meals each day and they will do all the clean-up. Having a motor boat along also means that we are able to take ice chests, allowing for a rich array of specialty foods and beverages.
Rates and Payment Details
For this experience, we're offering graded pricing based on the size of the trip.
11 guests: $1,199 per person
9 – 10 guests: $1,395 per person
6 – 8 guests: $1,650 per person
If the trip you have registered for doesn't meet a minimum of 6 guests, all booked guests will be fully refunded.
Payment Schedule and Terms
Deposit: A deposit of $599 is due at the time of booking to confirm your reservation. This deposit is nonrefundable.
Mid-Term Balance: An additional payment of $599 is due 30 days prior to the start of your trip.
Final Payment: 7 days prior to your trip, the final balance is due based on the final number of guests who have signed up for this experience.
All payments are nonrefundable. Exception: If the trip you have signed up for doesn't meet the minimum number of guests (6 people minimum), you will be completely refunded.
Travel Insurance is Highly Recommended
Given that this is adventure travel, we want all guests to be covered should the unexpected happen prior to this trip. That is why we highly recommend travel insurance for this journey even though it is, for many travelers, a domestic trip. We especially recommend coverage that includes full cancellation reimbursement due to an injury that precludes you from going on this trip.
JOIN THE ADVENTURE
Ages 18 years old and up. Please call for questions about kids under 18 years old.
If you have any questions feel free to contact us.+
READ SOME OF OUR REVIEWS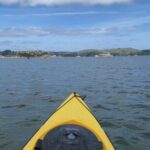 Such an amazing experience!! Thank you to my two wonderful friends who showed me this place. Thank you to the staff for being helpful and giving us tip how to get on board on a kayak and what we can and can not do. If you are in the area, I recommend going to them! Can't wait to see you guys soon!
- Google Reviews
Becoming a member of SeaTrek has changed our lives. It's given us a safe and easy way to be out on the water and for our three and five year old boys to explore, learn about marine wild life and have a sense of adventure. The people who work at SeaTrek are all incredibly warm and knowledgeable and have made our whole family feel welcome. During the pandemic this has been a lifeline for us. I can't recommend SeaTrek or being on Richardson Bay enough.
- Google Reviews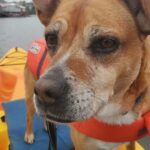 Fantastic company to rent from and great day kayaking! I have rented several times from Seatrek and every time has been so easy and hassle free. Today I took my dog for the first time and everyone was wonderful and helpful making it a perfect day on the water for us. If you are looking for a great single, couple, or group/family outing I highly recommend renting from seatrek.
- Yelp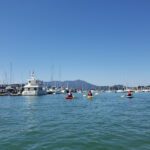 If you're staying in Sausalito or are looking for a great spot to get on the water during your stay in San Francisco this is a great spot! You're able to complete the waiver on line ahead of time (or as a group we were able to) and the safety speech was quick but thorough! We saw seals and a variety of birds and enjoyed being able to explore on our own. You're able to choose between kayaking and stand up paddle boards and the equipment is in good shape.
- Yelp
Loved kayaking in Sausalito. Saw a bunch of cute seals and birds. Water can get choppy when it's windy. Easy to board and get off the kayak. They had a small life jacket for our dog as well!
- Yelp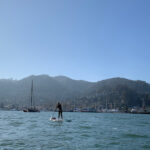 Friendly hepful staff. Excellent paddling equipment! Beautiful / scenic location with lots of wildlife to observe. Very relaxing escape from the hustle, bustle and stress of an urban environment.
- Yelp
My husband and I went out for a guided tour of the bay with Kenny this morning. It ended up just being the 3 of us which was really nice. I love that Sea Trek provided full body wind breakers which helped so much with keeping warm and dry. The highlight of the tour was definitely all the seals. They were so freaking cute and they were all over the pay popping their little heads out! Kenny shared lots of history with us regarding the boats in the bay, the animals, and the houseboat community. It was a really fun tour and it was not physically hard at all.
- Google Reviews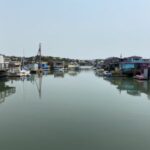 Great experience! Staff were friendly, and we had a smooth, fun time kayaking. We especially liked kayaking around the house boats, which were cook to see. They recommend making reservations in advance, which was easy to do online.
- Yelp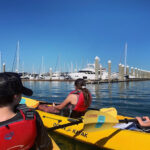 Repeat customer here. Book online ahead of time, and it's a breeze to check in and get out in the water. We have used single and double kayaks (not the traditional kind) with adults and tweens / teens.
- Yelp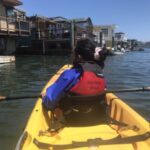 Went here for me recent birthday! Try to go when it's not windy! The first half was call. We went to the houseboats and to see the cute seals! Coming back, it got a little windy but it was definitely a great workout! We are in shape and used to rowing so it wasn't a big deal, just ask or look up weather conditions before reserving a time.
- Google Reviews
What a great place ! I took a SUP lesson and it was so fun and helpful . They are so friendly and organized . Very therapeutic to get out on the water .
- Google Reviews