Kayak Coasts and Islands – Expedition Style
Kayak Expedition down Baja California's Sea of Cortez, Snorkeling, Hikes
Adventure Type
Kayak, Snorkeling, Hiking
Experience Necessary
beginner
Age Minimum
16
Destination / Location
Loreto, Baja Mexico
Trip Dates
2020-(Oct. 12-17, 19-24, 26-31, Nov. 2-7, 9-14, 16-21, 23-28, 30-Dec.5, Dec. 7-12, 14-19, 21-26, 28-Jan. 2, 2021) 2021- (Jan. 4-9, 11-16, 18-23, 25-30, Feb. 1-6, March 22-27, 29-April 3, April 5-10, 12-17, 19-24, 26-May 1)
Highlights
Explore Baja's nearby islands and coastline
Snorkeling, Hiking, Sea Kayaking
Local guides with cultural, historical, ecological knowledge of area
Learn about ranch and village life in Mexico
Amazing food cooked for you
Weeklong Adventure Through the Islands and Coast of Baja
Sea Trek/ Paddling South's 6-day trip kayaking through the islands and along the coast of Baja California offers a little of everything. Travelers spend the first half of the trip exploring the isolated islands near Loreto, followed by miles of pristine wilderness along the coastline. These scenic landscapes are teeming with life above and below the water, and you will have an unprecedented chance to witness the wildlife first-hand.

But this isn't just a wilderness trip—you will have plenty of opportunity to see the realities of life in rural Mexico. As the trip nears its end, you visit a hot spring, a local ranch, and a small fishing village, offering several glimpses of the "real" Mexico that you don't get to see at your average tourist location.
Itinerary
If you fly into Loreto, we will be there to greet you at the airport and arrange transportation to your waterfront hotel. Let us know if you plan on arriving via some other method of transportation. Once you're at the hotel, we'll have an orientation session, in which our guides will explain the trip in more detail, and answer any questions you may have. Afterward, you are free to explore Loreto for a place to get dinner—the guides will be happy to provide some recommendations!
Your guides will host you for breakfast this morning in town, where we will go over last minute needs and details. You'll have your carefully selected trip items packed, and we'll take any leftover luggage for safe storage while you are out with us. At our launch spot, after loading our gear and food in our boats, your guides will teach you some basics of kayak safety and ecologically-friendly camping. For the first paddle day it's off to either Isla Danzante or Isla del Carmen, both of which have excellent camps. We provide high-quality tents, but the lack of rain or bugs makes sleeping under the stars an excellent option.
When you first wake up to the sound of the waves lapping the shore, and the sight of the sun piercing the horizon, you'll know your trip has truly begun. Guides allocate 3 to 4 hours a day to traveling by kayak, leaving you the rest of the day to explore each campsite. You can hike around the land near the campsite, take your snorkel gear and explore life in the waters, or learn more about the land from the complete natural history library we bring along on every trip. Feel free to ask our guides about Baja's weather, geography, natural history, or anything else. As locals, they know a lot about the area, and are happy to share their knowledge. They are also good at getting you out of camp and into the water early in the day, when the wildlife tends to be most active.
The wind levels around the islands can be unpredictable and affect travel times, so in the second half of the trip, we head back toward the coast, where the route is easier to predict. The coastal route offers longer hiking trails that reveal the inland wilderness. Your guides, who know the route well, can show you the hidden secrets of the peninsula, including many areas worth exploring by fin, foot, or paddle.
Depending on the weather for the week, and the pace of the trip, we may be ready for a rest/layover day. You can try your hand at line fishing for triggerfish, pargo, or cabrilla, which your guides will make a delicious fresh ceviche out of. Or enjoy a guided nature walk in the desert, learning about our rich local flora and fauna. There is also plenty of time for more paddling and snorkeling for those that wish to explore more…
Around the fifth day, you will camp near a small island hot spring that can be visited by wading across a sand spit at low tide. Soak in the warm mineral water, letting your muscles and mind relax after days of paddling your kayak through the ocean. Near the hot springs sits an authentic local ranch. Our guides have longstanding connections with the ranchers in the area, and they will be happy to show you around, teaching you about the realities of ranching life in Baja California. After the tour comes a meal courtesy of the ranchers, with beans, rice, fish, stew, and homemade tortillas.
There's time for one early morning paddle into the sunrise, and by mid-morning it's time to load up and head back. A van arrives at the take-out to bring everyone back to Loreto. A few hours later, you'll have a taco lunch in the town followed by a much-needed shower in your hotel room. That evening, Sea Trek/ Paddling South hosts a farewell dinner at one of our favorite restaurants, and everyone celebrates a fun and successful trip together.
The next morning, you can find a spot for breakfast and leave on your own time. If you have an early-morning flight, the hotel can accommodate your schedule, and if you need more transportation info, the guides can help you out. Be sure to come back soon for another Baja adventure!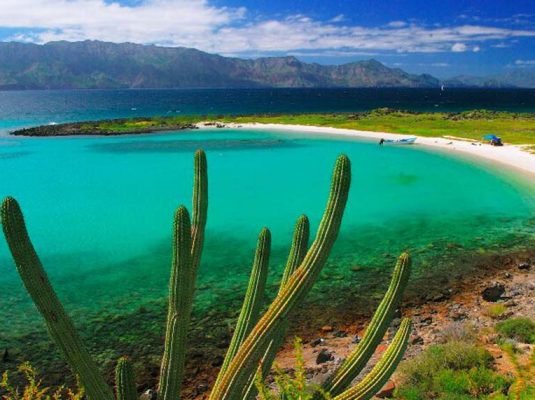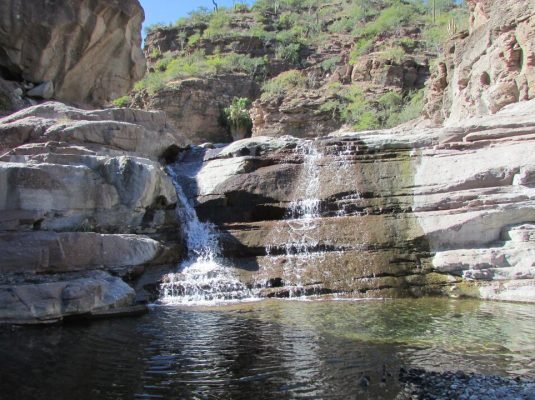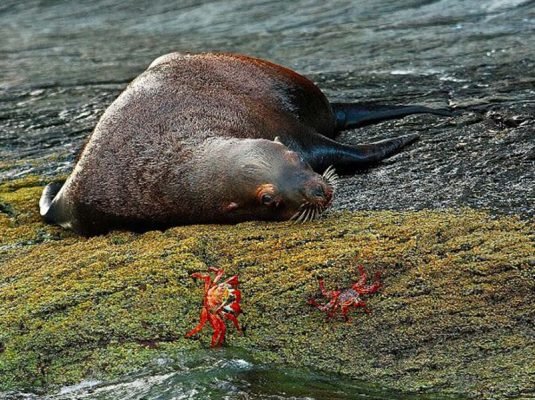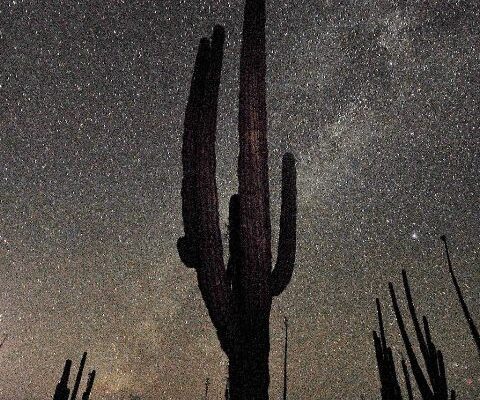 This trip begins at Loreto. Located on the lower part of the eastern gulf coastline, this town has long been a destination for people seeking a wilderness adventure.
While many people with the time and patience enjoy driving into Loreto from San Diego via Federal Highway 1, the easiest way is to fly into the nearby international airport. Alaska Air/Horizon flies directly to Loreto from Los Angeles, and AereoCalafia offers direct flights into Loreto from Tijuana. You can also try reaching the town by flying to La Paz or Cabo, and getting a connecting flight or other form of transportation from there. Contact us for more information on traveling to Loreto.
More Info
Accommodations Hotel accommodations are not included in the trip package. You will want to book accommodations for at least the night before the first published day of the trip, and then again for the night of the last published day of the trip. For our confirmed clients, we are pleased to offer the services of our preferred Travel Planners, to assist with all of your flight and hotel needs. Although limited in number, visitors to Loreto have lodging choices that range from Luxury to budget. Our travel planner will assist you in determining lodging that fits your preferences. Our Travel planners are seasoned Baja veterans, and will help you find the best flight arrangements as well, so that your trip planning is smooth and efficient. Packing List You'll be provided a detailed, official packing list upon reserving a trip with Paddling South & Sea Trek, but you may wish to keep the following list in mind while you prepare: