Families Base Camp – Skiff Supported
A Family Trip to the Sea of Cortez with Kayaking, Hiking, and Whale Watching
Adventure Type
Kayaking, Hiking, & Stand Up Paddle
Experience Necessary
No Experience
Age Minimum
14
Destination / Location
Isla del Carmen, Baja Mexico
Trip Dates
April 9-13th
Highlights
Take your family on an unforgettable adventure
Kayaking, snorkeling, stand up paddle boarding all available
Fewer camps gives everyone more time to play
Whale watching excursion to Pacific Ocean
Kid-friendly staff helps keep children engaged
Beautiful campsites and delicious meals
Family Kayak Trip on the Baja Peninsula
Most of Sea Trek's trips are designed for people age 14 and up, and expects everyone to be able to keep up with the group. However, we realize that many parents want to give their children an appreciation of the outdoors, and a kayaking trip in Baja Mexico is an excellent way to do that.

The family base camp trip provides a little bit of everything: some whale watching, some kayaking, some stand up paddling, some snorkeling. The major difference is that, rather than breaking camp and moving to a new location every day, family trips will stay at two of the best campsites on Carmen and Danzante. We have found that families get more out of the week if they are allowed to settle into a few places.

On Carmen and Danzante Islands, our kid-friendly staff will make sure that the children are as active as they want to be. They can go snorkeling, fishing, paddling, beachcombing, make sand castles or hang out. Parents can be off duty or involved depending on their inclination at the time, and of course our staff provides food and drinks.

Itinerary
When you arrive at Loreto's airport, we are there to transport you to your waterfront hotel. Spend the afternoon exploring the town's history and visiting its shops, then meet back at the hotel at 6:00pm for a thorough orientation. Your guides will answer any questions you have.
The day begins with breakfast at our favorite local café. We then take a van from the hotel to Magdalena Bay, located on the Pacific side of the Baja Peninsula. We board our panga, and for the next 3-4 hours watch mother gray whales and their young swimming together under the guidance of our resident naturalist. The whales often get close enough to touch you, or look you in the eye. Lunch at a local restaurant in the fishing village of Puerto Lopez Mateo is included, and afterwards we head back to the Sea of Cortez to begin our kayak adventure. We will stay at the Tripui Hotel for the night before we starting our paddling adventure.
The sun rising over the Sea of Cortez and casting its light on the jagged promontories of Isla Danzante is a sight to behold. Your guides will point out Los Candeleros Islands, small rocks jutting above the water that serve as a home to cormorants, boobies, and ospreys. After paddling along the coast of Isla Danzante, we make a second crossing, this time to Isla del Carmen, located northeast of Danzante. Keep an eye out for pods of dolphins during the crossing, or even a blue whale! After setting up camp on Isla del Carmen, the afternoon is yours to spend as you wish. Stand up paddle boards, sea kayaks, snorkeling equipment, and relaxing chairs are all available.
After a hearty Mexican breakfast, it's time for a day trip! We explore the coves around Isla del Carmen, and eventually make an afternoon stop at a secluded beach for an afternoon of snorkeling and sunbathing. Upon returning to camp for the night, your guides prepare a feast of yellowtail, herbed rice, mixed green salad and tortillas.
We have spent two nights on Isla del Carmen, so in the morning we'll cross back to Isla Danzante to set up camp at a new location, this one surrounded by massive rock formations. There's more opportunity for exploration and relaxation, and another delicious meal as sunset changes the colors on the rock faces of the Sierra de la Giganta range.
Another day on Isla Danzante will give you additional time to contemplate the natural beauty all around you. The waters of the Sea of Cortez are breathtaking, often appearing a light turquoise color, and the desert landscape is a sharp red, especially the cliffs and rocks that dot the island. Spend your time snorkeling, paddle boarding, or hiking to a promontory that gives you an excellent 360-degree view of the islands and Baja peninsula.
Today is our final crossing, back to the Baja Peninsula. The sun rises over the Sea of Cortez one last time, making fiery colors briefly appear on the turquoise-hued water. We'll have breakfast, pack up, and paddle back to Puerto Escondido for the take-out, where a van will be waiting to take us back to Loreto. Once you've all showered and enjoyed a final seaside lunch, it's back to the airport, your head filled with the past week's experiences, your heart looking forward to your next adventure.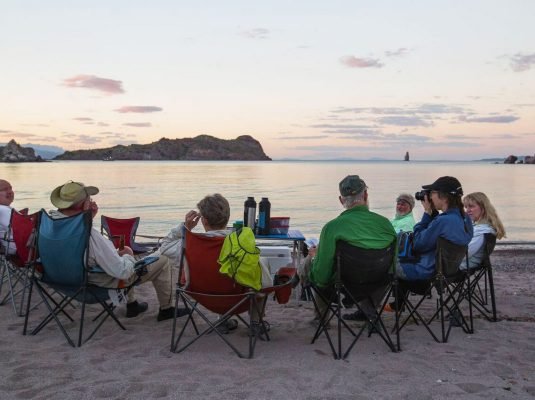 All Sea Trek Baja trips start in the quaint little town of Loreto, located on the Baja peninsula about 600 miles south of San Diego. In most cases there is only one inbound and outbound flight a day, so our afternoon/evening meeting on day 1, and our end of trip logistics are built around that timing.
Some people choose to drive to Loreto down Federal Highway 1, but the easiest way to get there is to fly into the international airport. Direct flights are available from Los Angeles and Tijuana, or you can fly through one of the nearby Mexican cities. Talk to us for more information on traveling to Loreto.
More Info
Accommodations Hotel accommodations are not included in the trip package. You will want to book accommodations for at least the night before the first published day of the trip, and then again for the night of the last published day of the trip.
For our confirmed clients, we are pleased to offer the services of our preferred Travel Planners, to assist with all of your flight and hotel needs. Although limited in number, visitors to Loreto have lodging choices that range from Luxury to budget. Our travel planner will assist you in determining lodging that fits your preferences. Our Travel planners are seasoned Baja veterans, and will help you find the best flight arrangements as well, so that your trip planning is smooth and efficient.
Packing List You'll be provided a detailed, official packing list upon reserving a trip with Sea Trek, but you may wish to keep the following list in mind while you prepare:
Duis eget ligula velit. Ut eleifend eu arcu quis elementum.
Fusce odio nunc, suscipit quis enim suscipit, consequat congue metus. Donec urna massa, condimentum ac porta vitae, facilisis vitae justo. Ut non sem non felis tristique lobortis. Duis posuere neque rutrum elit accumsan, eu maximus nunc pretium. Sed accumsan tristique tortor nec facilisis. Duis eget ligula velit. Ut eleifend eu arcu quis elementum.