https://www.youtube.com/watch?v=LSX92ihJVbQ
About Sea Trek
Connecting people to the water since 1982
Bob Licht founded Sea Trek in 1982. It was the first commercial sea kayaking business in California. The company is now run by Bob's son, Galen, who continues the commitment to service and safety that has made Sea Trek such a success. By hiring friendly, professional guides and working to develop relationships with our clients, Sea Trek maintains the personal touch of a family business even as its services and options continue to expand. We now offer classes, trips, and rentals for both kayaks and stand-up paddleboards. Whatever your skill level and experience, you will find the Sea Trek staff ready to help make your adventure safe and enjoyable.
Of course, the service and personal care we offer on wilderness adventures would be nothing without the wilderness. Whether you are kayaking through the vibrant protected waters of Richardson Bay, taking a weeklong excursion on the Sea of Cortez, or paddling underneath the Golden Gate Bridge, you will find yourself surrounded by breathtaking sights. Sea Trek is committed to preserving these areas' natural beauty and employs environmentally conscious practices to ensure that our impact on these ecosystems is minimal.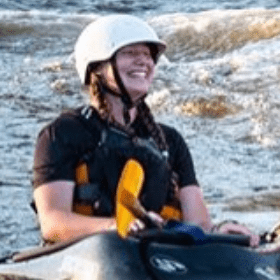 Kiley Dyke
INSTRUCTOR/GUIDE
Born and raised in San Francisco, Kiley's had the Pacific Ocean sloshing around in her brain since before she learned the alphabet. After moving to the East Coast for college, she specialized in whitewater kayaking and spent her four years of school instructing, guiding, and fervently checking river levels while occasionally hopping in a sea kayak to teach and lead multi-day trips on Adirondack lakes. Back in the Bay, Kiley has found a home at Sea Trek where she's been guiding, instructing, and playing since 2019. Now an ACA-certified L3 Coastal Kayaking Instructor, she's usually grinning in difficult conditions, attempting to surf anything that floats, exploring the coast, playing keys in Guide or Die (the kayaking industry's hottest new band), tossing up her ultimate stoke sign, or hopping around, trying to drain the salt water from her brain.