The annual Sea Trek Regatta is a chance for the Bay Area paddling community to share in a fun and challenging day paddling on the San Francisco Bay. Come join us on Sunday October 16th,  2022 for the most fun sea kayaking event of the year. The Regatta is open to people of all abilities, sea kayakers, stand-up paddlers, outriggers, and other paddling crafts.
This year's Sea Trek Regatta is a benefit for Environmental Traveling Companions (ETC), a Bay Area nonprofit organization that has been providing accessible outdoor adventures for people with disabilities and under-resourced youth since 1972.
With a variety of race classes and courses, the Regatta is perfect for paddlers looking to race competitively as well as those who are just looking for a spirited paddling event to support a great cause!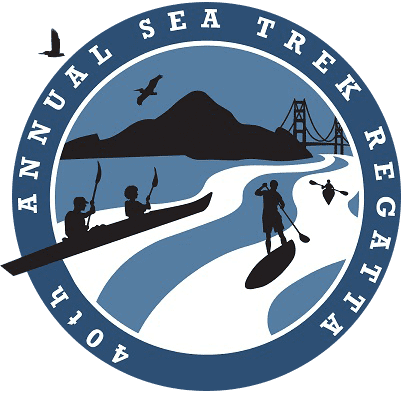 SEA TREK 40th ANNIVERSARY CELEBRATION – OCTOBER 15th, 2022
Come celebrate Sea Trek's 40th year in business. We'll have light food, drinks and live music. We've reached this milestone because of all our wonderful clients who continue to paddle and care with us.
4:00 pm – 6:00 pm Race registration
4:30 pm – 7:00 pm Finger food and live music
REGATTA RACE – October 16, 2022
10:15 am Race Start for all Paddler
RACE FEES & ETC FUNDRAISER
The race fee gets you a paddling shirt from Recover Brands with this years Regatta logo, a delicious lunch, drink ticket, safety boats on the race course and a great time. ALL PROCEEDS FROM THE RACE FEES go to ETC's Scholarship Fund.
REGISTER