Frequently Asked Questions
Answers to popular questions and helpful tips when visiting Sea Trek

SOME COMMON QUESTIONS ABOUT KAYAKING AND STAND UP PADDLING
Here are some questions you might have about kayaking or Stand Up paddling. If you don't see the answer to your questions please give us a call so we can answer all your questions.
WILL I GET WET?
To some extent, yes. There is often a certain amount of splash-and-drip associated with paddling. For on-top kayakers, butts and feet get damp/wet, so a change of clothes is recommended. We launch from a dock specially designed for easy access so you don't have to step into the water. If you're on a guided night paddle, the Angel Island Crossing, Golden Gate & Back, or Paddle the Gate trips, we use traditional double kayaks, so your lower half inside the kayak remains relatively dry.
WHAT ABOUT CAPSIZING THE KAYAK OR FALLING OFF THE PADDLEBOARD?
Both are extremely rare when renting or taking one of our guided trips. All of our guided kayak trips take place in stable, traditional, two-person kayaks (larger and steadier than river kayaks). The popular image of kayaks bobbing through rapids, and flipping upside-down is common to river kayaking but not bay kayaking. Keep in mind, however, if you participate in our skills courses, you will be learning and practicing rescue techniques that require overturning your boat or falling off your paddleboard.
IS KAYAKING OR PADDLEBOARDING DIFFICULT?
No. Kayaking and Stand Up paddling are highly accessible. Our friendly, supportive staff will teach you the simple, necessary skills you need in order to enjoy your time on the water.
IS IT STRENUOUS?
Only if you so choose. Kayaks and paddleboards glide easily with little physical effort in calm conditions. Sea Trek trips are designed so that participants don't overexert themselves and travel is at a leisurely pace. Will you be safe? All clients wear a lifejacket (or PFD personal flotation device). For all trips and classes, you will be accompanied by an instructor/guide trained in first aid. Sea Trek has an unblemished safety record.
WILL I NEED ANY SPECIAL GEAR OR EQUIPMENT?
Sea Trek provides all your basic kayaking or Stand Up paddling gear such as boat or board, paddles, and lifejackets. Wetsuits are provided for certain classes/trips. Please select the "What To Bring" tab above to see a list of suggested clothing and items to bring.
CAN CHILDREN PARTICIPATE?
Yes. Children of any age can kayak together with an adult, depending on the skill and confidence of the adult. Sea Trek offers programs (trips and camps) specifically designed for kids.
WHAT DOES IT COST TO RENT A KAYAK OR PADDLEBOARD?
$30/hour for Single Kayak or Stand Up paddleboard and $50/hour for a double kayak.
WHAT DO PEOPLE ENJOY ABOUT PADDLING?
Paddling is a means to explore and enjoy the outdoors on an intimate level. There is the solitude of a solo paddle, or the thrill and camaraderie of a group adventure or a Sea Trek trip or class. Paddling also provides great exercise while developing your core muscles.
Can I launch my personal SUP or Kayak at Sea Trek?
We don't allow the launching of any personal kayaks or SUPs at the Sea Trek docks even if you have members of your group renting from us. This is part of our agreement with the Army Corps of Engineers.
The best places to launch your kayak or SUP in Sausalito are Schoonmaker Marina, Dunphy Park or the Turney Street Boat Ramp.
WHAT TO BRING FOR KAYAKING & STAND UP PADDLING
We're delighted you've chosen to join us. Sea Trek has a reputation for making kayaking and Stand Up paddling fun and approachable, and we try hard to anticipate your needs. Here are suggestions for clothing and other items you should bring. Please don't hesitate to call us or to ask your guide or instructor when you arrive about what you have brought and what would be best to use.
WHAT TO BRING – CLOTHES:
Be comfortable!
Quick-dry materials (nylon, polypropylene, capilene, lycra). Avoid cotton—when it gets wet it stays wet and you get cold.
Shirt sleeve length depends upon the season and time of day.
Pants: Short or long depends upon the season and time of day. (Options: shorts, bathing trunks, yoga tights, windbreaker style pants, workout pants (hopefully synthetic)
Lightweight pair of gloves (paddling, biking gloves)—protects hands from potential blistering from kayak paddling; not necessary for stand-up paddling unless you prefer additional warmth or sun protection
Sun hats with good retention straps are excellent for sunny days
Evening trips, especially in cooler months: warm hat that covers ears, extra layer (fleece top), gloves.
FOR INSTRUCTIONAL CLASSES AND CERTAIN TOURS: Sea Trek will provide one of our wetsuits for the following: All kayaking and stand-up paddling classes, Paddle the Gate, Coastal Paddle, and Angel Island Crossing.
AVAILABLE FOR USE – NO EXTRA CHARGE: Windbreakers (nylon tops and pants), neoprene jackets, Farmer John/Jane-style wetsuits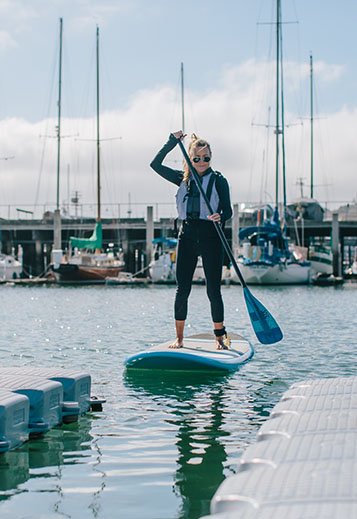 FOOTWEAR:
Water shoes
Teva-type sandals
Old sneakers
Neoprene booties
Best not to wear bulky shoes like hiking boots
Evening trips and/or cooler months: wool or synthetic socks (even if a bit wet, they'll keep you warmer)
WHAT TO BRING – ADDITIONAL STUFF:
Sunglasses with retention strap
Sunblock
Small snack
Water bottle
Camera
Ziploc baggie for item protection
FOR FULL-DAY CLASSES AND TRIPS: Lunch, extra layers for warmth during lunch break