SIT-ON-TOP KAYAK CLASS
For first timers and beginners
Focus on safe paddling
Learn kayak strokes for efficient paddling
Gain the confidence to rent from Sea Trek and paddle on your own
Includes short kayak tour
Expert instruction
In this three-hour class we emphasize safety on the water by reviewing tides and currents, local weather patterns, paddling etiquette, destinations and boundaries. We'll also focus on the most useful paddle strokes such as: forward, sweep, draw, and low brace. Finally, we'll encourage rescue practice (optional) for those who are ready to take this step.
The class is held at Sea Trek's Bay Model location. Wetsuit, paddle jacket, and other kayaking equipment are included in the cost of the class. To reserve your spot today, register online by clicking the BOOK NOW button above or call (415) 332-8494.
Bay Model, 2100 Bridgeway, Sausalito, CA 94965 Follow Bay Model signs, and park in Bay Model lot.
COMING FROM THE NORTH ON HWY 101:
Take Sausalito/Marin City exit. Sea Trek is roughly 1.7 miles.
Go left under the freeway and right onto Bridgeway.
Count seven signal lights (including the signal where you turn right onto Bridgeway).
Turn left on Marinship Way. This is the first possible left after Harbor Drive and is opposite a 7-11 market and bus stop shelter.
Go down the hill and continue straight. Follow Bay Model signs. Turn right between Bay Model warehouses. Drive towards the water and the Bay Model/Sea Trek parking lot is on the left. Parking is free.
COMING FROM THE SOUTH (Golden Gate Bridge) ON HWY 101:
Take the Rodeo Drive exit off 101 (comes after Spencer Drive exit). From exit to Sea Trek is approx. 1.2 miles.
At the first stop sign bear left onto Nevada Street.
Nevada Street ends at Bridgeway. Turn right on Bridgeway and at the second signal light (just after Spring Street signal light) take a left at Marinship Way (opposite a 7-11 market and bus stop shelter).
Go down the hill and continue straight. Follow Bay Model signs. Turn right between Bay Model warehouses. Drive towards the water and the Bay Model/Sea Trek parking lot is on the left. Parking is free.
Learn Basic Kayaking Skills
First Strokes – Kayak Touring for Sit-on-Top & Sit-inside Kayaks by Mitch Powers
Second Edition
Written by Sea Trek's head instructor Mitch Powers
If you want a primer to review what you know before taking a class, or simply want to supplement your learning in class with something you can take home and read, First Strokes is an excellent guide to the basic skills you'll need to paddle a kayak. Written by Sea Trek's own head instructor, Mitch Powers, this guide has:
Over 120 photo-illustrations
Basic equipment, outfitting and boat control techniques
An in-depth chapter on paddle strokes
Rescues for sit-on-tops and sit-insides
Storage, transportation, launching and practice sessions
Trip planning and safety considerations
First Strokes covers all the basic skills needed to start the adventure of kayaking! If you want to keep it simple, this book will give you basic strokes, rescues and safety information. For those wishing to advance further, you'll find in-depth discussions of all the major kayaking skills as well as extra points sections at the end of most chapters where you can learn take your skills to the next level.
JOIN THE ADVENTURE
Ages 14 years old and up. Please call for questions about kids under 14 years old.
If you have any questions feel free to contact us.+
Explore more Sausalito classes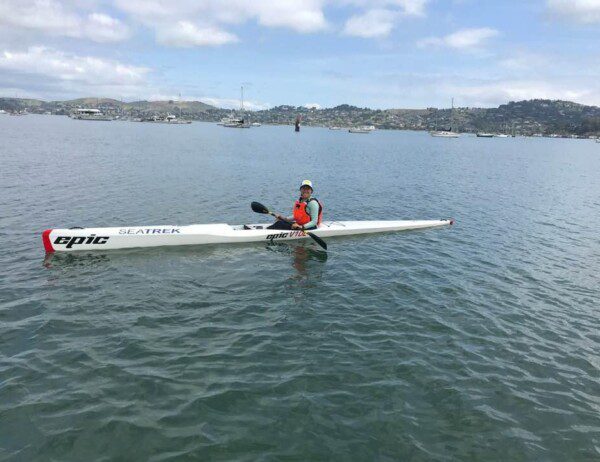 Introductory Surfski Class
Surfskis are high performance sit-on-top kayaks designed for speed on open water, most commonly the ocean, although also well-suited to all bodies of water and recreational paddling. In this class we'll practice all the basic strokes, review safety concerns, tides/currents and weather. Short kayak tour included.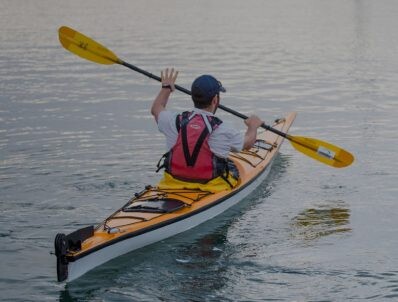 Introductory Sea Kayaking Class
We use traditional sit-inside sea kayaks with sprayskirts. This class is required for anyone wanting to rent a sit-inside kayak.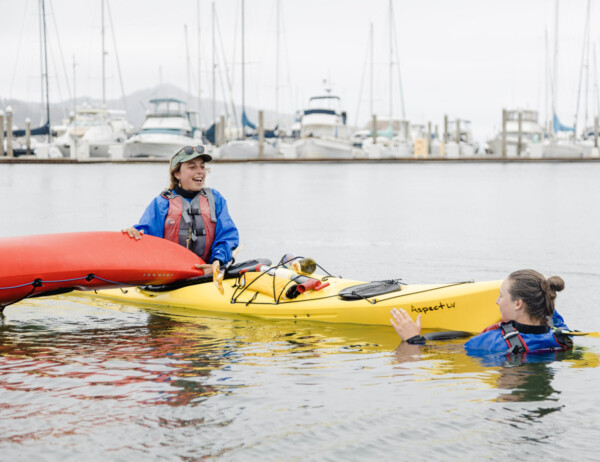 Intermediate Sea Kayaking Class
Learn some of the finer points of kayaking, new strokes, boat handling and maneuvering.
READ SOME OF OUR REVIEWS
If you're staying in Sausalito or are looking for a great spot to get on the water during your stay in San Francisco this is a great spot! You're able to complete the waiver on line ahead of time (or as a group we were able to) and the safety speech was quick but thorough! We saw seals and a variety of birds and enjoyed being able to explore on our own. You're able to choose between kayaking and stand up paddle boards and the equipment is in good shape.
Becoming a member of SeaTrek has changed our lives. It's given us a safe and easy way to be out on the water and for our three and five year old boys to explore, learn about marine wild life and have a sense of adventure. The people who work at SeaTrek are all incredibly warm and knowledgeable and have made our whole family feel welcome. During the pandemic this has been a lifeline for us. I can't recommend SeaTrek or being on Richardson Bay enough.
Such an amazing experience!! Thank you to my two wonderful friends who showed me this place. Thank you to the staff for being helpful and giving us tip how to get on board on a kayak and what we can and can not do. If you are in the area, I recommend going to them! Can't wait to see you guys soon!
Baja
kayak & sup private custom trips
We took the SUP option for paddling out to and around these beautiful islands in the Sea of Cortez. I was very glad we did, as SUPing is what we're used to when paddling at home, and it provides a great vantage down through the clear water, a full-body workout, and for me more comfort than sitting. We definitely weren't slowing down the group, and several others wanted to try it out from camp. It was easy to hop on the SUPs just to get a little morning exercise, to find the best snorkeling, and for an absolutely amazing Bioluminescence paddle. This was a wonderful trip. And a side benefit was how pretty, friendly and easy Loreto is.
Repeat customer here. Book online ahead of time, and it's a breeze to check in and get out in the water. We have used single and double kayaks (not the traditional kind) with adults and tweens / teens.
Baja
kayak coasts & islands & whale watching – expedition style
The Classic Island and Whale Watch tour was an incredible experience. The guides were pleasant, organized, knowledgeable, accommodating, and excellent chefs! Each individual in our group was asked what they were most interested in doing/seeing during the tour and our guides delivered. We have already recommended Sea Trek to friends and family.
Baja
kayak coasts & islands & whale watching – skiff supported
Three friends and I were dazzled by this group of professional, safety minded people. Advice is freely given by all and it is good advice. Amazing food - think fish caught and made into scrumptious meals like clams on the half shell and ceviche. Star gazing with stories about the constellations, going to sleep with the sounds of blue whales, jumping into the boats and racing to get in the middle of a school of dolphins who played in the wake. Kayak trips at different levels for those of us who are not as skilled but still want the adventure. It was all fabulous. I would recommend this trip to anyone who enjoys paddling, sleeping on the beach, and good company. As a group of over sixties, we felt well taken care of and safe. Keep up the good work, Sea Trek. You are a jewel.
Loved kayaking in Sausalito. Saw a bunch of cute seals and birds. Water can get choppy when it's windy. Easy to board and get off the kayak. They had a small life jacket for our dog as well!
Baja
kayak coasts & islands & whale watching – expedition style
Our kayaking camping trip from Loreto Mexico was an amazing nature experience. Sea Trek did a great job with answering all the pre-trip questions from my wife and I. The trip itself from Loreto to the islands of Danzante and Carmen was rich in marine and bird life and seeing the blue whales (again and again!) was life altering. The guides were truly experts and a pleasure to be with whether in the water or on a day hike. The meals were yummy, often including a fresh catch of the day. And then there is that celestial night sky…..We want to go back!
Baja
kayak coasts & islands & whale watching – skiff supported
Excellent food, excellent guides, excellent experience, excellent gear, excellent camping, excellent snorkeling, excellent camaraderie -- everything was wonderful! I had a great time! I feel like a new person! The whale watching was great, we also saw dolphins, pelicans and a variety of other animals. I highly recommend Sea Trek Baja trips for solo, couples and families -- you will be thrilled that you did it.
Great experience! Staff were friendly, and we had a smooth, fun time kayaking. We especially liked kayaking around the house boats, which were cook to see. They recommend making reservations in advance, which was easy to do online.
Baja
kayak coasts & islands – expedition style
The guides were amazing; the scenery breathtaking; the food outstanding. Can't say enough good things - I HIGHLY recommend it!!
Fantastic company to rent from and great day kayaking! I have rented several times from Seatrek and every time has been so easy and hassle free. Today I took my dog for the first time and everyone was wonderful and helpful making it a perfect day on the water for us. If you are looking for a great single, couple, or group/family outing I highly recommend renting from seatrek.
Baja
kayak coasts & islands & whale watching – skiff supported
Seatrek provided a memorable experience! Joey Heusler, our guide, was extremely knowledgeable about whales and with the Seatrek staff, took us to Magdalena Bay, where we had two trips out to see the Gray whales with their calves, and then on to the Sea of Cortez for a four day kayaking and camping trip on the islands. We saw eight Blue Whales, including one passing right by our island camp! A first time for most of us. The food prepared by the staff was wonderful and everything was done for our safety and comfort. Could not recommend this trip more highly!
Classes
introductory stand-up paddleboard class
What a great place ! I took a SUP lesson and it was so fun and helpful . They are so friendly and organized . Very therapeutic to get out on the water .
Baja
kayak coasts & islands – expedition style
I did a sea trek meditation retreat in Baja this season. From the very start all communication was timely, friendly and organised. Once I arrived in Loreto they were very accommodating. The kayaks were good kayaks and the guides incomparable. Cannot recommend Sea Trek and Baja enough. Thank you for helping making this experience the trip of a life time for me.
Baja
kayak & sup private custom trips
Words cannot express how wonderful this experience was. I went on the paddleboarding excursion with a friend in November. The weather was perfect! The paddling was amazing. The guides were helpful, knowledgeable professional and made sure that every camper got what they were expecting from the trip. We camped on the most beautiful beaches, snorkeled some beautiful spots, went fishing and diving and hiking. Such a full featured experience. I am changed forever. Can't wIt to go back and do it again!!! Worth every penny!!!!
Baja
kayak coasts & islands – skiff supported
This was my 3rd trip with Sea Trek in Baja. My wife and I have gone twice and I went once by myself. I love this place. Beautiful water, desert mountains, cool wildlife and it is in Mexico, a warm and charming culture. Steve, the Baja Big Cheese, has a knack for picking awesome staff. These are the kind of people I wish I had here at home to hang out with. My only complaint is that the trip is too short.
Friendly hepful staff. Excellent paddling equipment! Beautiful / scenic location with lots of wildlife to observe. Very relaxing escape from the hustle, bustle and stress of an urban environment.
Baja
kayak coasts & islands – expedition style
Sea Trek makes you feel welcomed and cared for as soon as you arrive in Loretto. Actually, as soon as you call them months in advance to ask about trip details. The kayaking is beautiful, the sea life swimming beside and below you - whales, dolphins, eels.... The food fresh and tasty, changing each day. An incredible, experience; easy to make the trip what you want... adventurous or relaxing, you choose... they make it happen.