Paddle the Gate 3 Hours
Kayaking in San Francisco under the Golden Gate Bridge
Adventure Type
Kayak
Experience Necessary
No Experience
Age Minimum
16
Destination / Location
Golden Gate Bridge
Trip Dates
April 21st, May 5th, May 19th, June 2nd, June 17th, July 15th, July 28th, Aug. 4th, Sept. 15th, Sept. 30th, Oct. 14th, Nov. 21st
Highlights
Take a kayak under the iconic Golden Gate Bridge
See the natural beauty along the Marin Headlands
Receive a thorough kayaking orientation from our guides
An exciting 3-hour trip under an American landmark
See the Golden Gate Bridge—From Below!
We start from Horseshoe Cove. Because this trip can deal with some strong currents flowing through the bay, we give you a thorough orientation to build your confidence and ensure you can take care of yourself in a kayak. If you have passed our Angel Island Class, you can choose to paddle in a single kayak. Everyone else must use a 2-person kayak. We paddle down the coast, taking care to stay close to shore, and away from shipping lanes. We travel beneath the Golden Gate Bridge and along the Marin Headlands before returning to Horseshoe Cove.

This trip takes about 3 hours, and does not require any experience kayaking. We leave in the morning, though the exact time will depend on the tides that day. Check available dates through our website, or call (415) 332-8494 for a reservation.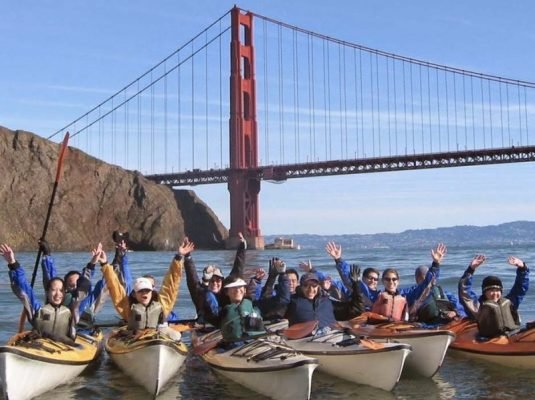 659 Sommerville Rd Sausalito, CA 94965
COMING FROM THE NORTH OR SOUTH ON HWY 101:
Take Exit 442 onto Alexander Avenue, and turn right.
Go under the freeway onto Alexander Ave.
Take a left on Bunker Rd, towards Fort Baker and Marin Headlands
Turn right towards Ft Baker, following Bunker Rd.
Bunker Rd becomes Murray Circle, then Moore Rd. Follow signs pointing you to the waterfront.
Take a left on Sommerville Rd. Follow it down the coast to parking spaces.