Kayak and Stand Up Paddleboard Rentals
LET's Paddle!
UPDATED FOR COVID-19 considerations
UPDATE May 25th – We are open for rentals! If you are having trouble finding an available time slot while making a reservation try setting the duration to 30 mins. You don't have to stick to the duration set in your reservation as long as you are back by closing.
At Sea Trek, your safety ( as always)  is our priority. There are significant changes to our rental process in the effort to keep you and our staff safer during the COVID-19 pandemic. Please read our new rental procedures careful to insure you are ready to paddle when you arrive at Sea Trek. Thank you!
IMPORTANT STEPS BEFORE YOUR RENT.
If you are sick or experiencing cold/flu like symptoms please stay home. If you can't come you will never be charged! Come back when you are feeling great.
NEW! RESERVATIONS ARE NOW REQUIRED FOR ALL RENTALS
When reserving, you'll see the 'Equipment' section. When you click on this you'll see "single/double kayak or SUP-number of people."  What we need to know is the number of people. You cannot pick which craft you want to rent.  You'll be able to choose your kayak or SUP preference when you arrive at Sea Trek.
All members of your group must sign a waiver before coming to Sea Trek. Sorry no exceptions. Even if you previously signed a waiver it needs to be re-signed/updated as of May 1, 2020.
Bring a face cover (mask) which must be worn while on land or our dock at all times.
Please come ready as regards to clothes you'll be wearing while paddling.
As of May 23rd you can only "recreate with members of your household or by yourself." As per governmental COVID-19 policies.
NOTE: CHANGES TO OUR RENTAL PROCESS AND SERVICES
The lockers are currently unavailable. Please leave your personal items in your car. If you walk, bike or ferry we can provide you with a dry bag.
Please use our hand washing station before entering our check-in area and on the dock.
All people will be required to wear a face covering while on land during the check in and out process.
We ask that you maintain  6 ft social distancing.
No cash payments can be accepted. Please bring your credit card or phone for payment.
Launching a personal boat or board is no longer allowed right now.
We have a limited number of windbreakers available each day so please plan on bringing your own
We have a limited number of dry bags for your phones. Please bring a zip lock bag of you think that is all you need, or you can purchase a phone dry bag from us.
We are so glad to help you get on the water again!
UPDATED HOURS OF OPERATION
Mon. – Tues. 9 am – 5 pm
Wed. – Sun. 7 am – 6 pm
*Last rental goes out 1 hour before closing
What we are doing to keep you and our staff safe.
Reservations will be required to limit the number of people at Sea Trek
Signs to help remind you of social distance and new instructions
PFDs ( life jackets) will be only used once per day disinfected after each use
Paddles will be self-serve and be disinfected after every use.
We have 2 hand washing stations for you to use
Our check in area has social distancing barriers in place
Staff will wear masks and wash their hands frequently
Our staff will be asked to stay home if they are feeling sick or have cold/flu symptoms. We've increased the # of paid sick days for staff so they never feel pressured to come to work if feeling sick.
We are following all Marin County Public Health Guidelines regarding social distancing protocols
Minimum charge is for one hour then we pro-rate based on additional time every fifteen minutes.
Become a member and enjoy unlimited paddling for only $65/ month!
Buy our 'Book of Time', 10 Hours of rental time for $150
Your rental covers the kayak, paddle, and the life jacket. There are a variety of kayak styles to choose from: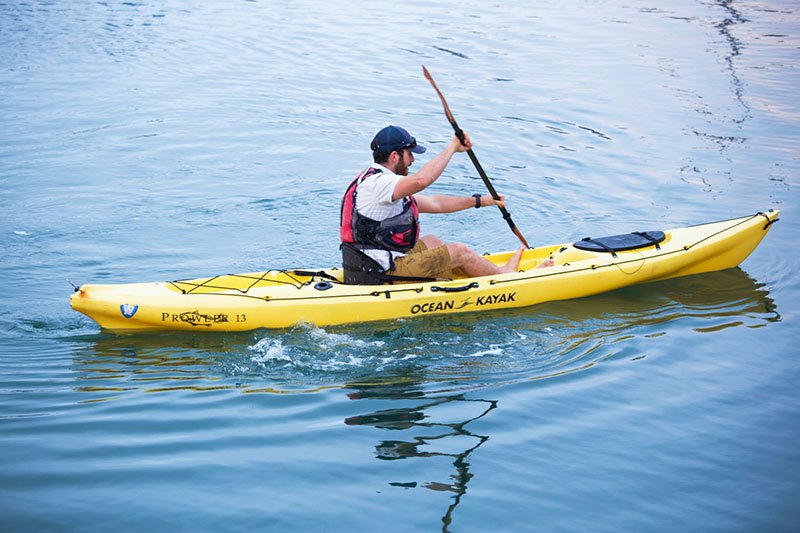 SIT-ON-TOP SEA KAYAKS
SINGLES & DOUBLES
Sit-on-top kayaks are an excellent option if you are new to kayaking. As the name suggests, you sit on top of them rather than inside them, and they are very good at staying upright and afloat. They are self-bailing, so you can use them without having any past experience on a kayak.
TRADITIONAL SEA KAYAKS
SINGLES & DOUBLES
Traditional kayaks require you to sit inside them rather than on top. This gives you certain advantages, but it requires an experienced kayaker. If you want to rent a traditional kayak, you must haven taken an introductory class in which you practiced capsizing and self-rescues.
Minimum charge is for one hour then we pro-rate based on additional time every fifteen minutes.
Become a member and enjoy unlimited paddling for only $65/ month!
Buy our 'Book of Time', 10 Hours of rental time for $150
Your rental includes a stand up paddleboard, a paddle, and a life jacket. You will have many stand up paddleboards to choose from
STAND UP PADDLEBOARD
The stand up paddleboard looks like a large, heavy surfboard, and like a surfboard, you stand on it. However, here in the bay, rather than being propelled by waves you'll be using a long paddle to move forward. Balance can be an issue so it's best to start with a wider board. Stand Up paddling offers an excellent core workout.
RACING STAND UP PADDLEBOARD
Racing SUPs are typically longer and little narrower and have displacement hulls. Sea Trek has several different racing boards from NSP and Naish. These boards are less stable than our standard boards and we only suggest people with significant experience use them. If you are interested in trying one of these boards please let our staff on the docks know.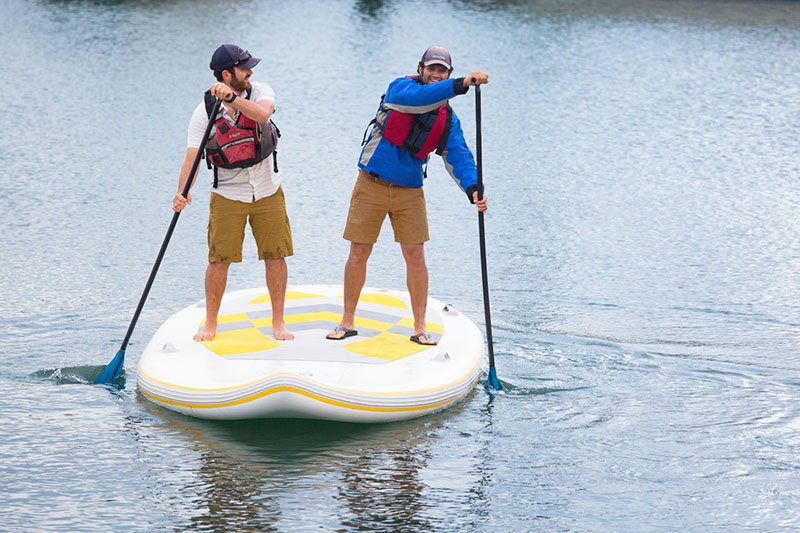 MONSTER STAND UP PADDLEBOARD
The 'Monster or Halibut' SUP is a multiple person Stand Up Paddleboard. 2-6 people plus a few dogs. This board is a hoot and definitely worth taking out. It is extremely popular with groups of friends, families and kids parties.* $50/hour for 2 people, additional paddlers $10/person/hour.
Hours of Operation
WE'RE OPEN FOR RENTALS ALL YEAR
with the exception of a few holidays (Day Before Thanksgiving, Thanksgiving & Christmas day).
UPDATED HOURS – MAY 1st
Monday – Tuesday 9 am-5 pm
Wednesday – Sunday 7 am – 6pm
Last rental goes out 1 hour before closing
WINTER
November-March 9 am-4 pm, Starting Dec. 2nd we will be closed on Mondays except for Holidays.
Last rental goes out 1 hour before closing
Code of Conduct
LIFE JACKET MUST BE WORN AT ALL TIMES ON THE WATER, THE RAMP, & DOCK
BE AWARE OF THE DIRECTION AND CHANGE IN STRENGTH OF THE WIND & CURRENT (Ask a Staff member if you are not sure)
STAY IN A KNEELING POSITION WHEN GETTING ON AND RETURNING THE PADDLE BOARDS TO THE DOCK
DO NOT PADDLE UNDER ANY PIER OR INTO EMPTY BOAT SLIPS
STAY OUT OF THE WAY OF ALL BOATS – THEY HAVE THE RIGHT OF WAY
STAY IN RICHARDSON BAY. DO NOT GO BEYOND THE TRIDENT/SCOMA RESTAURANT IN DOWNTOWN SAUSALITO
STAY BACK AT LEAST 100 FEET FROM THE HARBOR SEALS ON THE DOCKS
RESPECT THE PRIVACY OF THE HOUSEBOAT RESIDENTS
CHILDREN UNDER 16 MUST BE ACCOMPANIED BY AN ADULT
NO ALCOHOL IS PERMITTED AT ANY TIME
HAVE A FUN SAFE PADDLE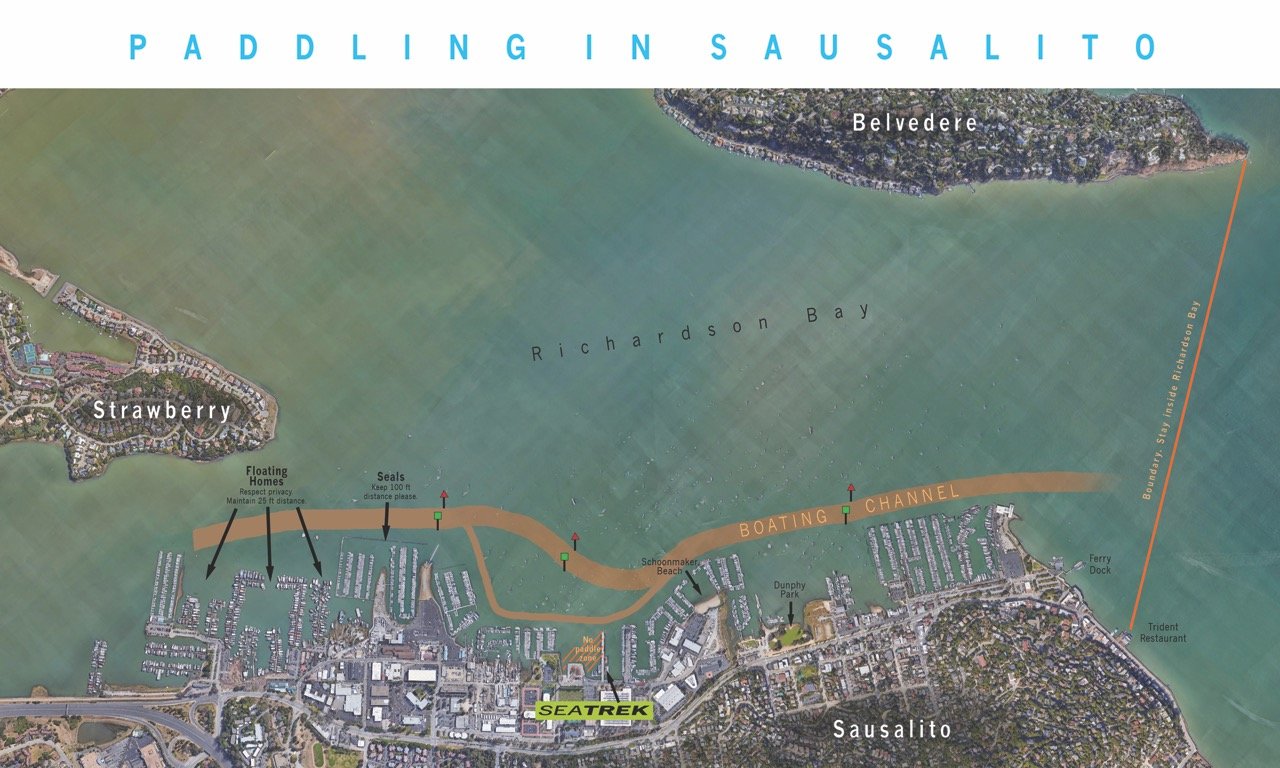 Why Paddle in the Winter with Sea Trek